Page 11 - The Woman Men Adore And Never Want To Leave ( Bob Grant) : Flip It & Read It
P. 11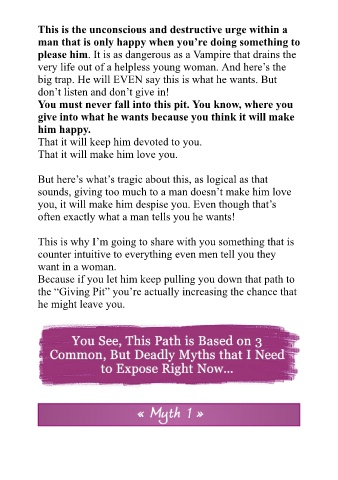 This is the unconscious and destructive urge within a
          man that is only happy when you're doing something to
          please him. It is as dangerous as a Vampire that drains the
          very life out of a helpless young woman. And here's the
          big trap. He will EVEN say this is what he wants. But
          don't listen and don't give in!
          You must never fall into this pit. You know, where you
          give into what he wants because you think it will make
          him happy.
          That it will keep him devoted to you.
          That it will make him love you.

          But here's what's tragic about this, as logical as that
          sounds, giving too much to a man doesn't make him love
          you, it will make him despise you. Even though that's
          often exactly what a man tells you he wants!

          This is why I'm going to share with you something that is
          counter intuitive to everything even men tell you they
          want in a woman.
          Because if you let him keep pulling you down that path to
          the "Giving Pit" you're actually increasing the chance that
          he might leave you.